Today, you can see the Zacks Rank and Style Scores for the stocks you're interested in. Plus, gain full access to our powerful tools and resources locked behind Zacks Premium, including the Zacks #1 Rank List, Industry Rank and Equity Research Reports, that will help you improve the performance of your portfolio. And now you can unlock it all for 30 days absolutely free.
---
Here are all of the features you'll enjoy over the next month:
Pick Better Stocks with the Zacks #1 Rank List.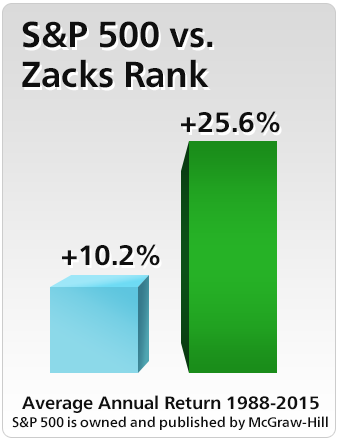 This private list narrows a universe of 4,400 stocks down to 5% with the most potential. Start your stock search with this exclusive roster of "best in class" picks that since 1988, has nearly tripled the S&P 500 with an average gain of more than +25% per year. This amazing performance has been examined and attested by the independent accounting firm of Baker Tilly Virchow Krause, LLP.*
Plus over the next month, you will also see which of your stocks has a Zacks Rank #5 (Strong Sell) rating. This is especially important when you consider these stocks have performed more than 11 times worse than the S&P 500.
Discover which of your stocks are Sell rated to remove them from your portfolio before they do any serious damage.
Make Picking the Best Stocks Even Easier with Zacks Style Scores.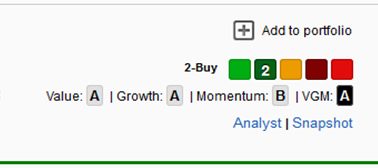 Designed to complement the Zacks Rank, these Scores of A, B, C, D or F, will help you find the best #1 Ranked Growth, Value and Momentum stocks to outperform the market.
You can even find stocks with the best scores across the board with the VGM Score. It's a combination of the individual Style Scores for Value, Growth and Momentum, but it is not just an arithmetical average. It is actually a calibrated weighting of each individual Style Score.
Turn Up the Best Stocks in the Best Industries.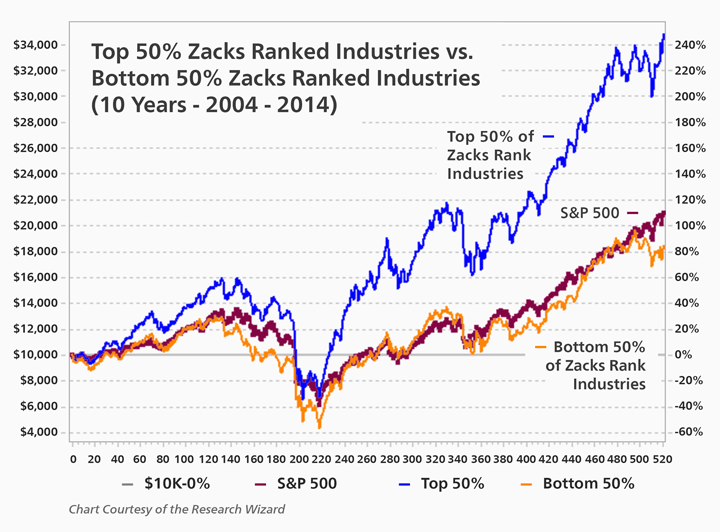 The Zacks Industry Rank sorts companies into more than 250 industry groups. We then calculate the average Zacks Rank for all of the stocks in the industry. Those with the highest rank are likely to outperform in the future.
In fact, over the last 10 years, the stocks in the top half of industries beat the bottom half by a factor of more than 2 to 1.
Learn the "Why" Behind Our Ratings with Equity Research Reports.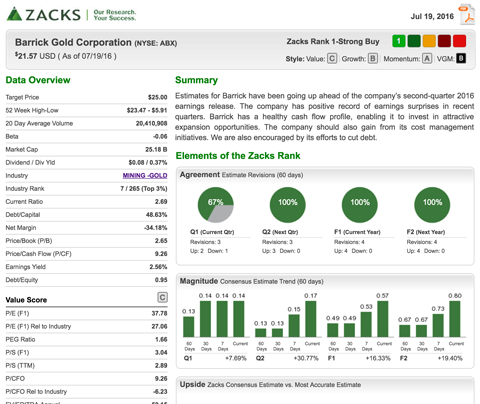 These reports feature in-depth analysis on over 1,000 of the most widely followed stocks.
Each one provides the Zacks Rank, Style Scores, Industry Rank and other key metrics for the stock in question. More importantly, it supplies you with clear and complete reasons why a stock should be bought, held or sold.
Find Your Own Winning Stocks with the Zacks Premium Screener.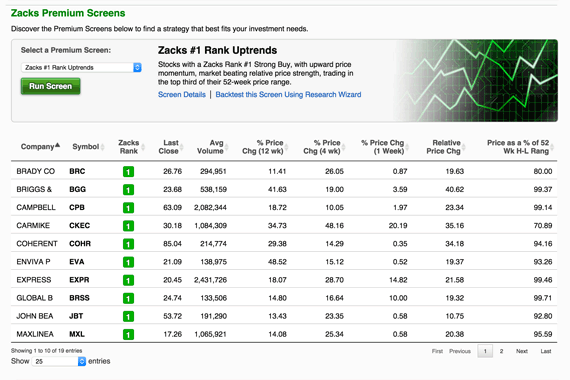 Pick and choose from more than 45 predefined screens strategically created by Zacks to beat the market.
Select screens that show you the best Zacks Ranked stocks to match your personal interests and trading style. Browse by market cap, Broker rating Upgrades, Management Efficiency, Top Price Performance and more. Or browse our bear market strategies for stocks most likely to go down. And to help you create your own profitable screens, use Zacks' Quant Monitor which shows a historical analysis of the S&P 500 returns based upon top fundamental factors that influence stock performance.
Add Top Stocks from this Award-Winning* Portfolio.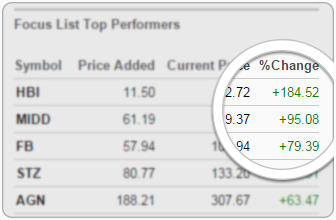 The Focus List is a portfolio of 50 stocks that are set to outperform the market over the next 12 months. Director of Research Sheraz Mian uses the best-in-class earnings momentum to select each stock which is accompanied by a comprehensive Equity Research Report that details the reasons behind each pick and why it's good for the long term.
Plus each Monday evening, Sheraz will share timely insight on overall market direction, sector allocation and why he is adding or deleting specific stocks from the award-winning portfolio in his Weekly Market Analysis email.
*Recently the Zacks' Focus List has achieved the distinction of making the Hulbert 2016 Honor Roll of top-performing portfolios.
Uncover Mutual Funds and ETFs Most Likely to Outperform.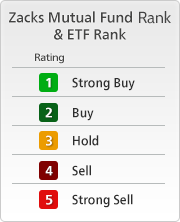 Use the Zacks Mutual Fund Rank to evaluate your current funds and find better funds. This ranking system covers nearly 19,000 mutual funds, and unlike most of the fund-rating systems, it isn't just focused on past performance. Instead it points to the likely future success of the fund.
Our Zacks ETF Rank helps you select the very best ETFs for your portfolio. Not only does this ranking system take into account asset class forecasts, but it looks at several ETF specific factors to give you a comprehensive account of a fund's investment potential.
The Zacks ETF Rank aims to find funds that are likely to outperform for a one year outlook (as opposed to the 1-3 month outlook for our stock ranking system). We currently evaluate a variety of funds across asset classes, including equities, commodities, fixed income and currency.
After your free 30-day trial, you can continue to access all of the exclusive tools and resources locked behind Zacks Premium for only $29 per month.
Backed by 2 Airtight Guarantees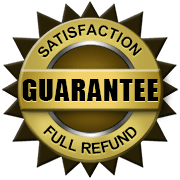 You are covered by a Satisfaction Guarantee. You may cancel up to 90 days after your trial is over. And if you feel we have not exceeded your expectations, then we will refund every last cent.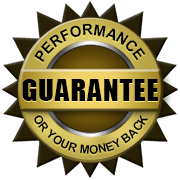 You're also protected by a 100% Money Back Performance Guarantee. Simply stated, if the Zacks Rank does not help you beat the market, then you can get a full refund on your subscription. Details.
There is no obligation to spend a cent, but this free trial offer may be withdrawn at any time. So be sure to sign up right now.
"Through Zacks research, I took a 60% profit in an airliner that I only held for 3 months! Picking stocks has never been so fun, and I appreciate the dedication Zacks has to unbiased, timely research on stocks, ETFs and mutual funds. Keep up the good work."
Martin F.
"2013 and 2014 were the best years I've ever had investing. I made 60% and 66% on my portfolio respectively - in part due to the effectiveness of the Zacks Rank."
David S.
"I subscribe to a number of investment newsletters and websites, but Zacks is my first point of reference when checking stocks in the market. Everything that Zacks offers that I have had access to has been extremely helpful. I have had countless successful stocks picks using the Zacks Rank."
Charles F.